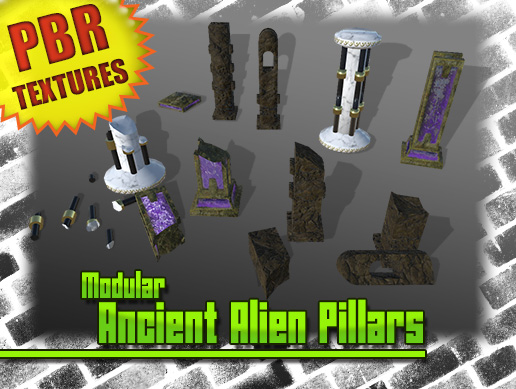 A modular set of ancient alien pillars. Comes with pre-built configurations and allows for an endless number of configurations. Includes three demo scenes.
Key Features
49 meshes
97 prefabs
28 unique configurations pre-built
Broken pieces can be put back together seamlessly
Two LOD stages for the parts for Pillars 1 and 2
All models share one texture/material for reduced draw calls
2K PBR textures
Highest poly mesh only has 352 tris and 400 verts
Check out our destructible pillars demo created with pieces from this asset.
Free Version
Free version with a few models included in the full version is also available.
Full Version Changelog
v1.1 (Unity 5)
– Added Unity 5 version
– Updated textures (PBR)
v1.02
– Now includes Destructible Pillars Demo